SAF-INSTANT®, the original: the reference of dry yeasts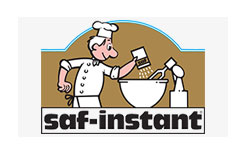 Saf-instant, the first instant dry yeast released to market, is the most widely-sold Lesaffre brand in the world. This well-known brand is recognized and appreciated by bakers the world over, to the point of becoming an international reference on the dry yeast market.
1,000 ways to make bread, but only one yeast: Saf-instant
Easy to use and requiring no rehydration, Saf-instant is an instant dry yeast that has proven its value since it was first launched in 1973. Its small, dehydrated vermicelli provide a concentration of performance and simple to use, for it can be poured directly into the mixer. Over time, the Red version, especially suited for no sugar or low sugar dough, was joined by a Gold version, developed for sweet dough (over 5% sugar). The product line designed for household consumption also offers customers yeasts for all types of recipes, including breads, brioches, pizzas and more.
Benefits
Authenticity: Provides top quality, even in the most difficult bread-making conditions: Saf-instant yeast has become the preferred brand among professional bakers.
Uniqueness: Regardless of bread type or manufacturing process, Saf-instant yeast offers superior fermenting power and great stability over time. This, in turn, provides a guarantee of optimal-quality breads with a high success rate.
Innovation:Saf-instant enjoys the benefits of the group's latest discoveries, when it comes to the selection of strains, processes and packaging.
Ease of use: Directly incorporated into the flour or added at the start of kneading, Saf-instant yeast disperses easily and mixes quickly and evenly with the dough, for optimal fermentation.
Characteristics
Ready-to-use instant dry yeast
Available in Red, Gold and consumer versions
Packaging:

500 g sachets and 10 kg vacuum poches
Also available for household consumption in 11 g sachets and 125 g sachets

Shelf life: 2 years from the production date, unless regulation states otherwise